Russian Army Battle Backpack RD-99 Tactical Military Pack 35L SSO SPOSN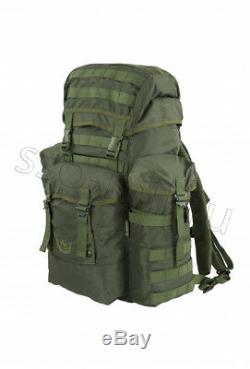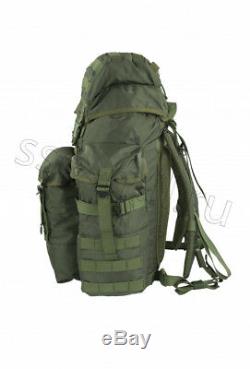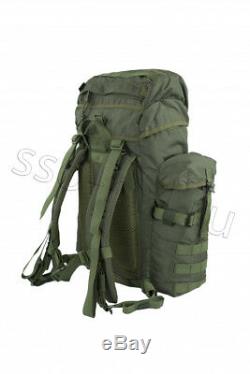 Backpack military "RD-99" Backpack with a capacity of 35 litres, designed for carrying ammunition and property of military units performing tasks for short-term patrols during the day. Property and ammunition are distributed to five compartments â one main and four external. The main compartment can fit warm clothes and spare shoes, raincoat, and power supply, ration, part of the ammunition, drinking system. Drinking hose system is discharged to the outside through covered belt loops of the strap, the hole in the rear wall of the main tank. The main compartment is pulled a tube with cord and closes with an oversized valve, which is placed inside the zippered pocket â there are transferred personal hygiene items.
The cord tube is fixed with a plastic stopper and the valve is fastened on quick polymer castle polyacetale. To the main compartment is sewn three external pockets with flaps, fastened with a metal button, the height of the valves are regulated by metal buckles "wing" with three slots. The top of the pockets is regulated by the volume of a cord threaded in the eyelets and fixed plastic retainers with springs.
To the contents of the pockets hanging, pockets utgivelse outer belts with buckles. The external pockets are stacked ammunition, engineering property, the combined pot (in the middle big pocket). The outer wall and the bottom of the main tank valve main tank and outer pockets of a backpack, a belt trimmed with horizontal strips for fastening the removable system modules ÐÐLLÐ.
For mounting on external sites, backpack sleeping bag, insulating pad, backpack kit includes four removable loops with buckles. The backpack is transferred to the shoulder straps adjustable for growth belt ribbons threaded through metal buckles "wing" with three slots.
Straps with mesh lining 100% polyester. In the webbing inserted into the soft lining of the izolon thickness of 10 mm. Between the chest straps tightened, the adjustable length strap fastened with quick-release plastic castle polyacetale. Additionally, straps are connected to the top part of the backpack belts â braces, which are used, if the internal vertical pockets at the rear, inserted duralumin plates "armor". Lats form the internal frame, which is required when carrying a backpack load of large weight (for example: ammunition to collective weapons units â AGS, the gun, the water in the canister).
For ease in wear, the rear backrest with padded "cushions", mesh lining (100% polyester) and a ventilation channel between them. All pockets and main container with drainage holes with grommets, flap volume, dustproof. External pockets one-piece, rear wall sewn to the main tank so that between the pocket and the main capacity formed a "sleeve" in which to insert long objects (skis, small infantry shovel, shot PG â 7, RPG â 7 grenade launcher).
Main compartment: 45x28x15 cm Side pocket: 35x15x8 slunecni pocket: 25x22x8 scarman valve: 10x28x15 cm. Some colors have a different price. Digital Flora, Olive, Black, ATACS, Woodland, Multicam, SPECTRE SKWO, SPECTRE. Don`t worry about track number... I will add it in 1 hour after sending from me to you! You can make any return ONLY if i have mistakes with your order from my side, like wrong color/size/item/quantity and etc. We are military warehouse company from Russia (Saint-Petersburg). We have direct contracts with all Russian gear, camouglage and accessories companies like SSO (SPOSN), TECHINKOM, MODOX, SPLAV, ANA, NPO-SM, Kizlyar, Pulsar, SPO-SM and etc. If you have any questions - please contact me HERE. You can see all my items HERE. Tags: Military, Tactical, Airsoft, Army, Russian, AK, Equipment, FSB, GRU, Alpha, Spetsnaz, SSO, Hunting, War, Battle, Special Forces, Weapon, Gun, SWAT, Police, NAVY, Troops, Soldier, Camouflage, CAMO, Operator, Tactical Gear, Rifle, Armored, Combat. The item "Russian Army Battle Backpack RD-99 Tactical Military Pack 35L SSO SPOSN" is in sale since Monday, July 24, 2017. This item is in the category "Collectibles\Militaria\Surplus\Personal, Field Gear\Bags & Packs". The seller is "ruarmy_com" and is located in St.
This item can be shipped worldwide.