AKMAX Military Medium Rucksack Army Tactical MOLLE 3 Days Assault Pack Multicam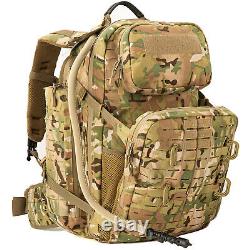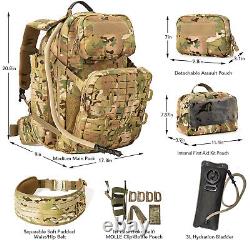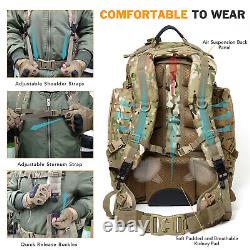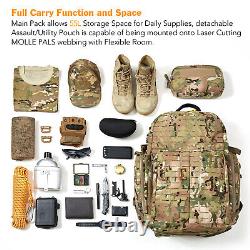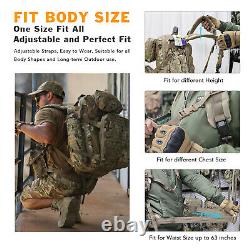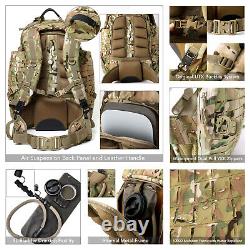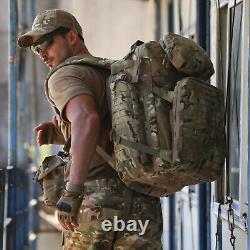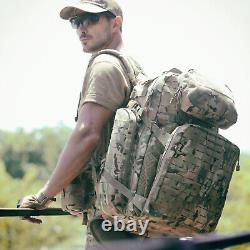 Adventure 3 Day Ruck System Content: 1Medium Main Pack, 1Detachable Assault Pouch, 1Internal First Aid Kit Pouch, 13L Hydration Bladder, 1Separable Waist/Hip Belt, 2Separable Quick Release Shoulder Straps, 1ID Case, 4MOLLE Clips, 1Bottle Pouch, 1Yoke Belt. One Assault Pouch is included with the M.
The pouch is capable of being mounted onto Laser Cutting MOLLE PALS webbing. The Assault pouch has a means of allowing water to drain out.
A slide fastener along the top of the pouch can secure the assault pouch closed. The front tactical compartment is designed as Laser Cutting PALS as well, and meanwhile it allows users to put irregularly shaped gear such as Helmet, Skis, Snowshoes, or Shoulder-launched Assault Equipment. MT Adventure Rucksack includes soft padding on the belt and shoulder straps.
With the wide hip belt it displaces the weight around your body with less pressure. Both straps can be adjusted to custom fit your body and has a breast strap that can be raised or lowered to fit.
The rucksack uses air support system in the back and hip belts. The waist belt is designed to minimize wearer discomfort. Quick Release Buckle allow Military uses to drop the pack immediately in case of the emergency situation. One 3L Hydration Bladder System is included in the whole backpack and it is constructed from rugged puncture resistant film with high tensile strength and burst resistant seams, and its film can accept a shock and deform elastically. The pack system allows bladder insert the space between the main compartment of the bag and the air support back.
One detachable first aid kit pouch located inside the main pack's compartment. Magic tape design allows users decision to carry or not freely.
MT Adventure 72H Military Rucksack Pack System is ready for different kinds of mission such as Patrol, Recon, Survival Task, Camping games, Hiking, Air Soft game, Bug Out and some other Tactical Operations.