M65 Jacket Genuine US Army Surplus Vintage Military War Combat Field Coat Olive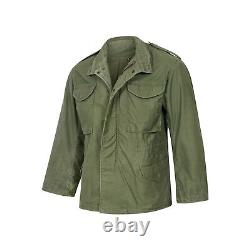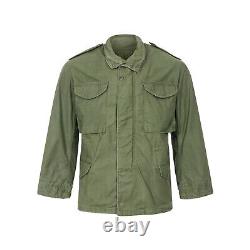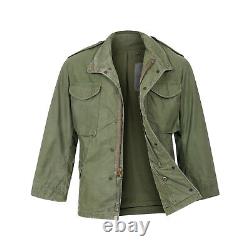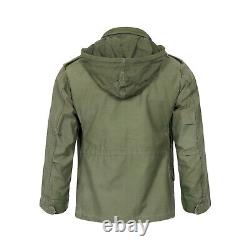 Grade 2 Original Used M65 Jacket Olive. It may have worn signs, name patches, different zippers and repaired stitches. Concealed hood for weather protection.
Experience authentic military style and rugged durability with our Original US M65 Jacket in Olive Green, now available in a coveted used condition. This iconic jacket has a rich history, originally designed for US troops during the Vietnam War. Crafted from premium materials, the M65 jacket offers supreme comfort and unmatched functionality, making it a timeless wardrobe essential for adventurers, outdoor enthusiasts, and fashion-forward individuals alike. Our Olive Green M65 Jacket is the epitome of versatile outerwear, suitable for various weather conditions. The classic design, featuring a concealed hood, multiple spacious pockets, and adjustable cuffs, allows for easy adaptation to different climates and activities.
The used condition lends an authentic vintage charm, with subtle signs of wear adding character to each piece. Whether you're exploring the wilderness, embarking on urban expeditions, or simply seeking a fashion statement, this M65 jacket delivers on both style and substance.
Whilst every effort is made to portray an accurate image of this item, please note that due to variations in screen resolution and display, the shade and tone colour of the item may vary slightly from the displayed image. Genuine Army Fashion - Product Gallery. Genuine Army and Fashion has been supplying army surplus to the world for years. Should you require any assistance at all, please get in touch. We only use reputed courier and reliably courier services.
Please make your required selection at checkout. Every effort is made to ensure that your product is received as ordered and in satisfactory condition. Orders are marked as dispatched only once they are actually handed to our courier service.
As we are processing many hundreds of orders per day, an order can only be pulled back if it has not already been packaged for dispatch. Understandably advance notification of intention to cancel is required to allow your order to be located and pulled out from hundreds of parcels and packages.