Military Medical Assault Pack Complete Kit, Used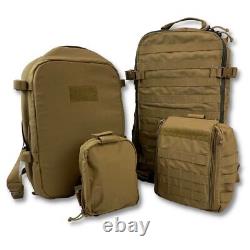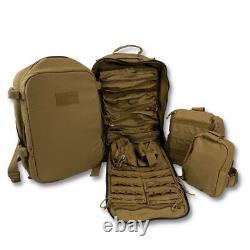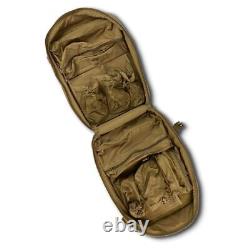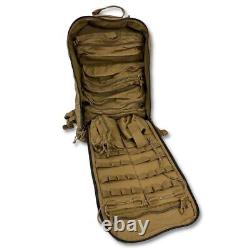 Military Medical Assault Pack Complete Kit. The Military Issue Medical Assault Pack Kit was manufactured by Propper Industries to give all the individual parts needed for a medic to carry the gear needed on both short and extended missions. The interior of each pack is designed to be customized with the compartments needed and easily changed.
The four bags can be used together or separately and include the main Medical Assault Pack, Sustainment Bag, Medical Thigh Rig, and a Modular Medical Pouch. Included are multiple hook and loop attachable pouches to divide airway, bleeding, circulation and more along with IV carriers and accessories. A truly customizable set that you will never outgrow. Includes: Medical Assault Pack, Sustainment Bag, Medical Thigh Rig, and a Modular Medical Pouch.
Removable organizing pouches and IV Bag. Sustainment bag can be used separately or attached to the main Assault Pack. Condition: Very good used military surplus.
Over 80,000 Sq Feet of Surplus and over 30 Years in Buisness. Beyond Clothing Thermal Grid Fleece Top Pullover, PCU Level 2. USMC Surplus Fleece New Style Watch Cap, Set of 2. N-3B Extreme Cold Weather Parka, Military Issue Circa 1980's.
Beyond Clothing Thermal Grid Fleece Pant PCU Level 2. USMC Mesh Sleeping Bag Storage Sack, Military Surplus. USMC Mystery Ranch Sternum Cinch Strap Webbing. Government Issue Cold Weather Mummy Sleeping Bag.
USMC Padded MOLLE Optical Instrument Case. Army Navy Outdoors are tactical, survival and work stores that keeps its roots in Army Navy. We operate from a 80,000 sq foot wearhouse in Texas along with retail locations in Florida serving everyone from Law enforcement, tactical military units, outdoors bushcraft survivalists, workmen & women, and civilians. Our goal is to provide the right gear for your use and give the best service we can. We hire and train experts and are here to guide and answer questions. We have been in this business long before a lot of brands even existed. Army Navy Stores in general were always fun and draws people for all kinds of surplus, military gear and cools items. Over the years as surplus dried up and retail changed we did also. We never lost our roots as an army navy stores we just added more cool stuff that people need. Why we love to do this. Customers tell us all the time that they came to our store with their parents when they were small like 8 years old. That is the biggest thrill we can get. We work with cool people, hardcore customers, those new to it all and families. We are thrilled that I can support and help tactical teams, Soldiers, Law enforcement, OTMs and everyday people that need advice. It's not only a blast working with everyone we get to help with uniform and gear selections that really matter to those who use it. We take pride in getting the right gear to customers and get to play with all the toys out in the field.
The team is mostly full of long term people and they all take personal responsibility, make decisions and want our customers coming back every time. Government, b2b and What else we do. We work directly with companies, municipalities, Security, LE and federal agencies US and foreign.
Please contact our staff for more information or formal quotes. Cost is based on actual weight and we try to be as accurate as possible allowing us to sell at the lowest price we can. Should a package be lost or damaged, it is the customer####x2019;s responsibility to report the loss so that the problem may be addressed in a timely manner. Please be aware that claims cannot be opened after 30 days, and ANO assumes no responsibility for claims not reported within the time period. Our ultimate objective is to make our customers happy. Items Not Eligible for Return. In order to protect our customers and keep chain of custody we are unable to accept return for body amour, Food items or medical products. If any of your items do not work we want to make it better. Just return what did not work and place a new order. This item is in the category "Sporting Goods\Camping & Hiking\Hiking Backpacks\Backpacks". The seller is "armynavyoutdoors_ano" and is located in this country: US. This item can be shipped worldwide.