Set 2 Military Tow Strap Sling D Ring Shackle Clevis+chains 9 Ft+ Us Army Straps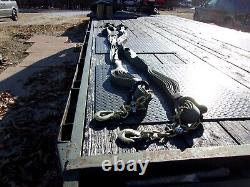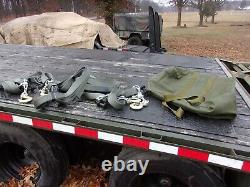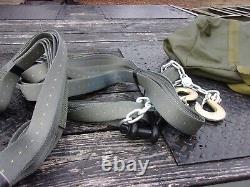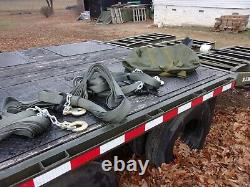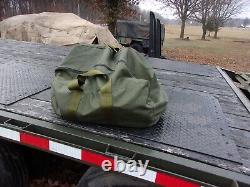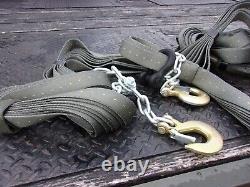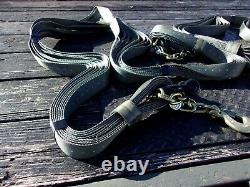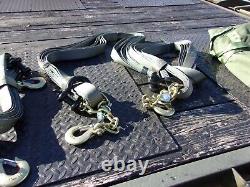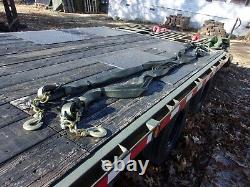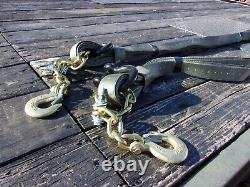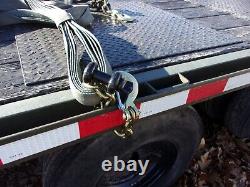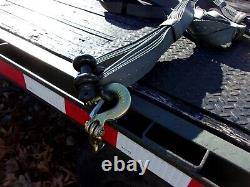 SET 2 MILITARY TOW STRAP SLING D RING SHACKLE CLEVIS+CHAINS 9 FT+ US ARMY STRAPS... FIRST GROUP OF PICTURES ARE OF THE ACTUAL STRAPS... EVERYTHING IS THE SAME EXCEPT THE COLOR OF THE CHAIN.. THIS SET HAS SILVER COLORED CHAIN. ALL PARTS OF THE TOW STRAPS STARTED NEW...
SOME LIGHT SCRATCHES HERE THERE ON THE D RINGS. THE SLING STRAPS ARE 9 FOOT LONG... THE CHAIS AND CLEVISES MAKE IT A LITTLE LONGER. THESE MAKE GREAT TOW OR LIFT SLINGS OR STRAPS.. THE STRAP SET AND PARACHUTE BAG ARE MILITARY SURPLUS THE REST OF THE PARTS ARE CIVILIAN.
I BUILT AND USE THESE TOW CHAINS FOR MY. PERSONAL USE , I HAVNT REALLY SEEN ANY LIKE THEM... YOU CAN USE THE DRINGS TO CONNECT THE 2 STRAPS TO MAKE ONE LONGER STRAP OR TO SECURE TO OTHER EQUIPMENT, OR USE THE CLEVIS TO HOOK AROUND A VEHICLE FRAME.. I WAS TIRED OF BREAKING TOW STRAPS ON A HEAVY PULL, STANDARD CHAINS DON'T SECURE WELL THESE DO, YOU HAVE OPTIONS ON HOW TO SECURE THEM. STRAP LOAD 44,500 POUNDS... D RINGS 62,000 POUNDSTHE CLEVIS-HOOK 18, OOO POUNDS... EVERYTHING TOGETHER WEIGHS AROUND 35 POUNDS...
I ONLY HAVE THE ONE SET FOR SALE. I DO NOT SELL US SURPLUS OUTSIDE THE US..... You no longer need to collect and pay it to the state...