Ultra-rare Wwii U. S. Army Signal Corp Bc-1209 / Scr-583 Military Field Radio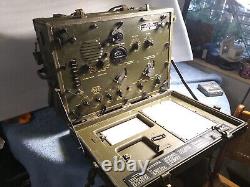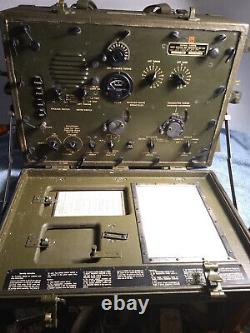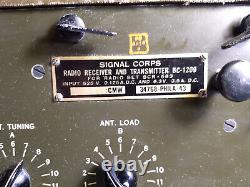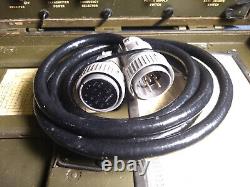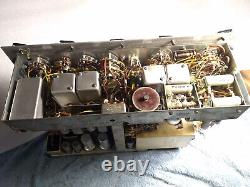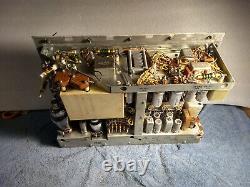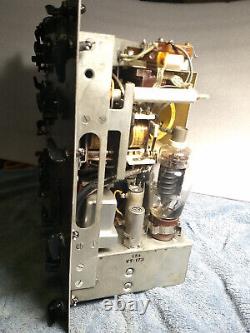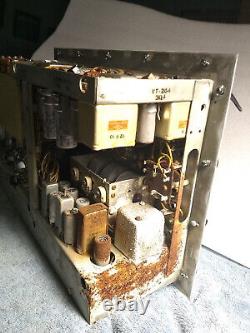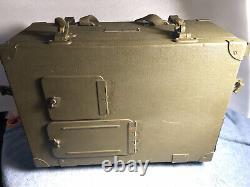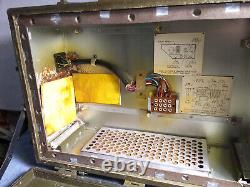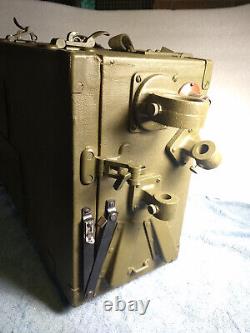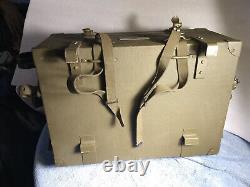 ULTRA RARE IN THIS LIKE NEW CONDITION WWII U. ARMY BC-1209 / SCR-583 FIELD RADIO.
THIS UNIT LOOKS COMPLETE WITH ALL MAIN ORIGINAL ELECTRONIC COMPONENTS. INTERCONNECT CABLE IS LIKE NEW ABSOLUTELY NO WEAR MARKS. Army Radio receiver transmitter looks to have never been deployed, and we believe only. A very few still exist as only a small number were ever produced. Chassis looks amazingly clean and in tact with all switches and mechanical parts functioning.
Moisture / rust damage in case & chassis around connector mount, otherwise like NEW! Please look carefully at pics as there may be other issues I have not discovered as. We try hard to mention all defects or issues.
The manual does say, quote: a. Radio Set SCR-583 is designed to provide two-way communication between: - cavalry units - units of horse artillery - cavalry and horse artillery units - motor vehicles - armored cars b. This equipment can be operated in a driving rain and the chest, when closed, may even be immersed completely in water for a short time. As you can see from photo, there has been some moisture ingress around the connector area, with some rust that can be cleaned up. There are a couple ports in the front cover so the radio may be closed up and the radio operated with only these smaller ports open for access to the essential controls and speaker output, if desired. It's kind of a mystery why this radio was produced late in WWII when the BC-654 / SCR-284 was already fielded. The contract date on the radio is 1943 and the manual publication date is April 1944. The BC-1209 has characteristics of both older and newer radios. It is larger than the BC-654 and the case is reinforced wood. It uses newer tubes than the BC-654. The transmitter power tube is 2E22 and the other tubes are 7-pin miniatures of the 1T4, 1R5, 3Q4 and so on. There is a voltage regulator tube and oddly enough, one tube is used as a diode for the RF output metering. Power is rated at a low of 4 watts voice on low power setting to 40 watts output CW telegraphy on high power setting with auxiliary power supply. For possible actual on-air use, this radio is more usable than the BC-654, as the BC-1209 tunes the whole 80 meter amateur radio band. The tuning range is 2.2 - 4.6 MHz and the receiver is directly calibrated in kHz. The antenna called for is 6 to 25 feet, high impedance, so for actual use to transmit, to reduce harmonic output, you will want to use an antenna tuner. Owner says: With maybe 40+ years of interest in vintage military communications, I have only seen one other BC-1209.
That other one belongs to an antique radio collectors club in New Jersey. I bought this radio probably in 1975, pretty close to the end of G&G Radio in New York City. There may be others still out there that have not yet surfaced, but so far all I have heard is one very sketchy rumor. When I bought this, G&G told me this was the very last BC-1209 they had.
They told me there was nothing else available, but I said that was alright with me, as I had no interest in the hand cranked generator. I did get the power cable, so you will have the otherwise unobtainable power connector and best of all, the original tech manual.
The manual is in very nice condition, rust on the staples, but no folded, written on, or torn pages. This is a big radio, impressive, extremely rare is no exaggeration, and now you can be the only boy or girl in your neighborhood, or any neighborhood really, with your own BC-1209. No claim is made as to the functionality of this Radio Gear.
UNIFORM COMMERCIAL CODE 2-316 (3). Please contact if you prefer a different shipper than FEDX or UPS.