US MILITARY 16X16 FRAME CANVAS TENT CAMPING HUNTING ARMY WithRAIN FLY, FLOOR S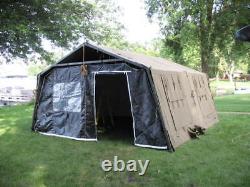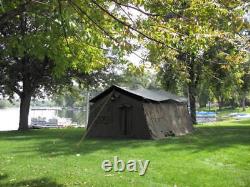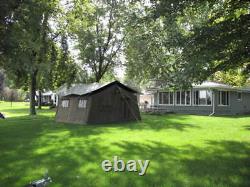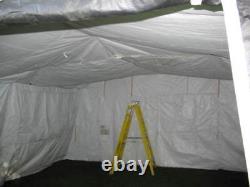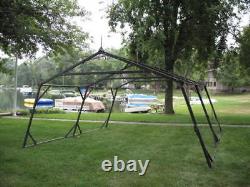 This is an authentic canvas Army tent. Expandable meaning this tent can be connected to another 16X16 and another etc.
Allowing as long a tent as needed. Canvas is much better than the vinyl models that are plagued with condensation and moisture in the interior during any change in temperature.
Canvas is much more comfortable since it breaths thereby eliminating condensation. These canvas tents are very popular for reenactments, movie sets, hunters, outfitters, etc.. This tent is custom with a rain fly enabled by extenders borrowed from another army tent design. The fly was custom designed which not only protects the tent from the rain/hail/snow/sun but also from small falling tree branches. Canvas tents perform best when erected in the shade. It helps preserve the canvas from the UV rays. The fly is green on the outside and black on the inside and made from very strong, reinforced vinyl... It comes with a Army issue bag for storage. The rain fly really takes the tent to another level.
Tent is rated for steady 45 mph winds and gusts up to 65 mph. Those spec probably reduce with the custom rain fly but still a very stout tent providing excellent protection and sanctuary. All tent and fly ropes have been replaced with new with a few extras thrown in. There are extra frame sections including an additional arch and header bar.
Also included are oak and metal rope and frame stakes. Included is a large canvas tarp (not pictured) to be used as a floor covering. Also included is a new, unused vinyl cold weather liner (black on outside, white on inside as depicted in photos) that suspends from the framing to provide a insulating barrier for cold weather application. It come with an Army issue duffle bag for storage.
All windows are functional with no cracking or tears. Mosquito netting is in fine shape on all widows.
Tent has been kept in dry storage and was always put away dry. I unfolded the main section to get pictures and verified no mold... Only some yellow pollen from pine trees on the edge sod cloth that can easily be removed with a broom. Tent is used and shows some wear with normal use. Door zippers will occasionally separate and need restart.
Possible fix is wax lubrication or replacement. One corner grommet could use replacement and any other issue is a minor sewing fix. Overall tent is in nice shape. Erection consists of frame assembly with one side left on its "knees". Main section is then draped over the frame with appropriate grommets over frame pins.
End sections grommets (with doors) are installed on frame pins follow by extenders and rain fly. Frame is then lifted (with recommended help) off its knees to full erection.
Purlin braces are then fixed before end sections are laced to the main section. Send a message with questions. Item is located near Brooklyn, Michigan.